Quality craft beer
DURING THIS TIME WE WILL BE PROVIDING TAKEOUT FOOD AND BEER
SUPPORT LOCAL AND ENJOY FLATTENING THE CURVE
Beer to go
Our unique lineup of beer represents our passion for brewing crisp craft beer that pushes conventional boundaries.  
Available in crowlers, growlers, and  limited can selections.
Citra Ascent
NW IPA, ABV 7.0% IBU 70
A flavorful and crisp IPA with strong note of orange citrus, grapefruit and slightly tropical. A great hoppy beer for the NW IPA drinkers.
Paddle Session
Session NE IPA, ABV 5.1% IBU 36
An easy drinking, sessionable New England style IPA with a hop profile of mango, citrus, pine, and stone fruit.
Will-O'-the wisp
Irish red ale, ABV 5.5% IBU 24
An easy drinking Irish Red Ale with a deep caramel flavor and dry roast in the finish. With little hop profile, this beer highlights quality European malts in a crisp and drikable ale for the Irish beer lovers.
Lady 80-Tower Theater
NW IPA, ABV 6.0% IBU 53
For the Tower Theaters 80th anniversary, we have made a collaboration IPA to celebrate. A classic NW IPA with complex hop flavors of pine, citrus, fruity, and slightly dank. A drinkable celebration.
Packin' the arena
Session Ale, ABV 5.0% IBU 15.5
This traditional cream ale is perfect and fittin for a day in the stands. Crisp and drikable with very little bitterness and light flavors of corn malt. 
Ring the alarm
India Red Ale, ABV 6.9% IBU 50
A classic India Red Ale. A complex malt profile with light caramel and bisquit aroma with a deep caramel and toasty flavor. This red is well balanced with a strong hop flavor and aroma of pine, citrus, grapefruit, and slight dank.
Drop In
Session NW IPA, ABV 5.4% IBU 48
Hoppy and refreshing. A lower alcohol beer with all the hop flavor you'd expect from an IPA. Citrus, fruity, and piney with a bit of dank makes for a light, flavorful, and drinakble hoppy beer.
Sunset Pils
German Pilsner, ABV 5.5% IBU 34
A light and crisp German Pilsner with a malty sweetness complimented by European hops. A perfect beer as the days get shorter and shorter.
Cold Weather Classic
Chocolate Porter, ABV 6.1% IBU 27
This chocolate porter was brewed for the brisk Central Oregon winter season. A smooth chocolate malt profile is boosted by cocoa nibs and chocolate extract creating a polished and flavorful winter porter.
Righteous
Double NE IPA, ABV 8.2% IBU 60
A smooth yet crisp Double IPA with a juicy hop profile of NE IPA. Mosiac, Azacca, and Simcoe hops make a fruity and tropical Double IPA.
Sexy Girlfiend
Kettle Sour, ABV 5.8% IBU 25
Tart like she should be, this refreshing kettle sour shows her fruit with a lingering finish of mango and passion fruit. She is everything her name implies.
Copper Jacketed
Amber, ABV 5.7% IBU 31
Named after its golden amber color the amber is a true cornerstone of American craft brewing. With a prominent caramel malt character that is balanced perfectly with bright citrus and piney American hops.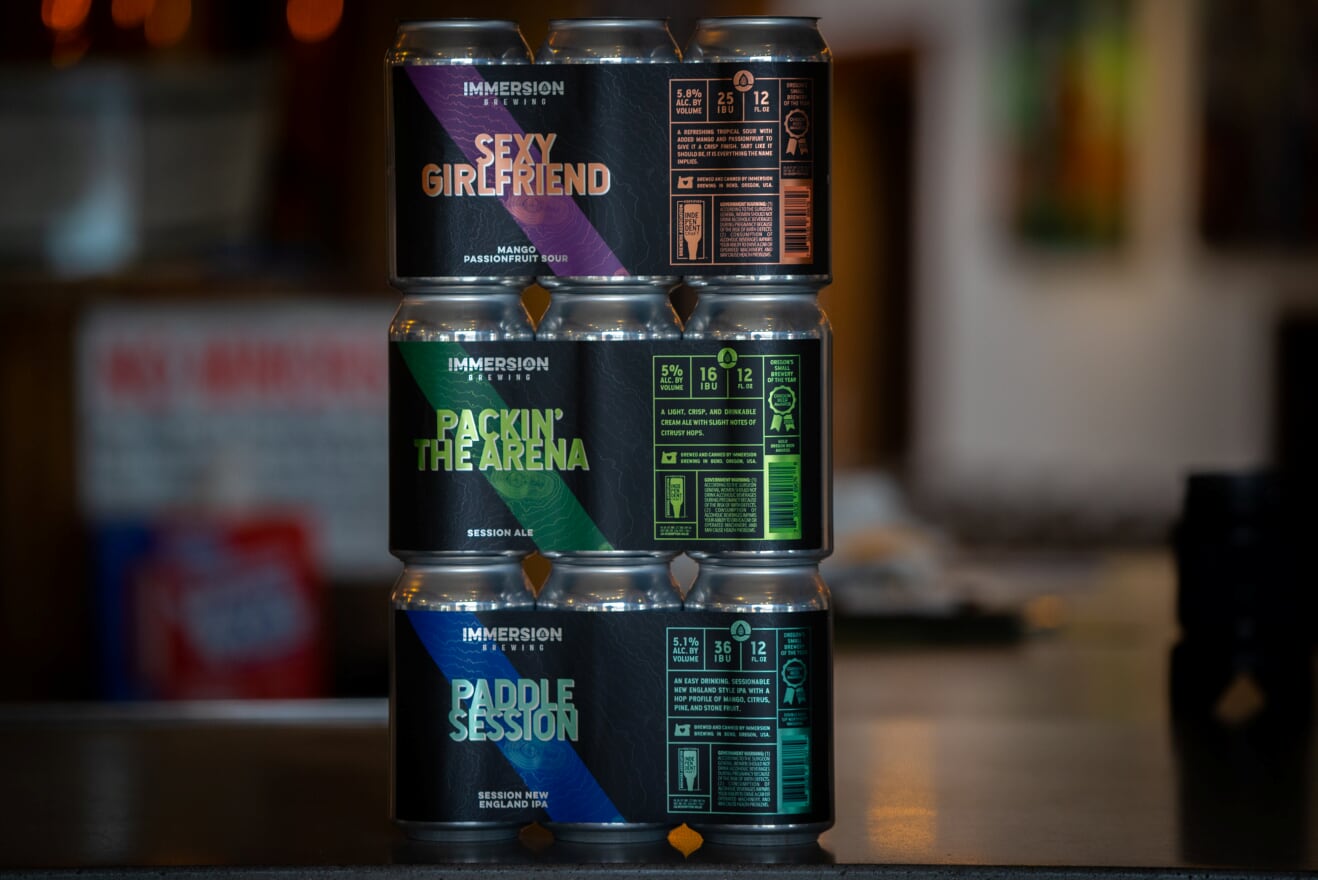 We also have six packs
Sexy Gilfriend Kettle Sour
Packin' the Arena Session Ale
Paddle Session Session New England IPA
Order straight from the brewery to go or from your local store. To find our beer near you use our craft beer tracker.